BHARATHIYAR DAY
The birthday of Sri Subramaniya Bharathiyar was celebrated in the school on 16th December 2015. The secretary headed the function. In his address he praised the great poet for his nationalist outlook and also for the messages in his poetry for the future. It was pointed out that Bharathi was the true thinker in the South to visualize India as one nation.
| | |
| --- | --- |
| Students in the programme during Bharathiyar Day. | A view of the audience |
---
SWAMI VIVEKANANDA JAYANTHI
On 12th of January 2016, we celebrated Swami Vivekananda Jayanthi to recollect the deeds of the greatest Hindu monk of the 19th century Swami Vivekananda. The function was presided over by our Secretary. The Secretary characterized Swami Vivekananda as the earliest thinker to imagine India as one country and propagated his ideas among the people.
Students receiving prize from the Joint Secretary.
The Secretary and the Principal look on.
A drama on Swami Vivekananda's life.
---
THIRUVALLUVAR DAY
21st Jan 2016 saw the celebration of Thiruvalluvar day. Presiding over the function, the Secretary of the school explained about several instances where the couplets acclaimed as Tamil Veda can be applied in day-to-day life of the students for a bright future.
A XII std. student receiving prize won in a
competition on Thiruvalluvar Day.
The Secretary addressing the audience
Students performing a skit
---
REPUBLIC DAY
The school celebrates Republic Day on 26th January every year to emphasise the formation of a great country. The Joint Secretary who presided over the function gave a detailed outline to the students.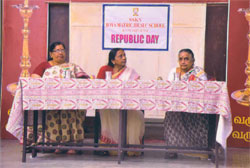 The Joint Secretary at the Republic Day function.
---