RECITATION OF VISHNU SAHASRANAMAM
On the occasion of "Vaikunta Ekadasi", on Monday, 21st DEC, 2015, the students attending Sanskrit classes in the School, recited Vishnu Sahasranamam which they had learnt over a period. Certificates awarded to the winning students in the competition were given away by the Secretary. The Principal of the School participated in the function.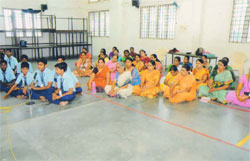 Students and teachers seen reciting Vishnu Sahasranamam.
---
SADGURU SRI THYAGARAJA SWAMI ARADHANA
The disciples of Mridanga Vidwan Sri Prapancham Ravindran with accompanists soulfully rendered the Gana Raga Pancharathna Keerthanas at the 169th Aradhana of Sri Thyagaraja Swami celebrated in the School on Friday, 29th January 2016. Music teachers, students of the music wing of the schools and non-teaching staff were present in large numbers.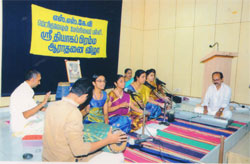 Music teacher of the school Mrs. Sundari seen rendering the welcome address.
---
VILAKU POOJA by Std. XII STUDENTS
The auspicious Vilaku Pooja is performed every year to seek Almighty's blessings for the students who appear for public exams. The Students of class XII performed the pooja on 22nd JAN 2016 this year. This was followed by chanting of bhajans and devotional songs. The Secretary, the Joint Secretary, the Principal and all the staff participated in the occasion and blessed the students for success.
| | |
| --- | --- |
| The XII Std teachers seen performing the pooja | Arthi at the Pooja. |
---
VILAKU POOJA by Std. X STUDENTS
Vilaku Pooja for class X was performed on 10th FEB 2016 with the same spiritual fervour. The zeal with which the bhajans and devotional songs were rendered moved one and all.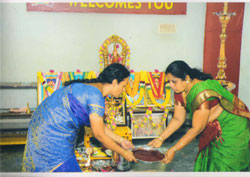 Arthi at the Pooja
---
SRI RAMA NAVAMI
Rama Navami is one of the most important Hindu festivals in India celebrating the birth of the great iconographic hero of Indian Epic Ramayana. Sri Rama is believed to be the incarnation of Vishnu in human form who had lived an ideal life to be followed as a model. The students and teachers who are learning Vishnu Sahasranamam recited it with all devotion.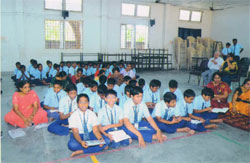 Students seen reciting Vishnu Sahasranamam
---