CAREER GUIDENCE FOR STD. XII STUDENTS
The Chairman of Dhanalakshmi Engineering College in an effort to promote his College among our +2 students visited our School and brought with him, a panel of expert teachers who gave valuable tips to the students on subjects like Mathematics, Physics and Chemistry. The students enthusiastically interacted with the faculty members getting their doubts cleared.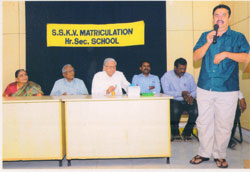 Dr V.P. Ramamurthy, Founder of the Dhanalakshmi Engineering College along with his panel of faculty seen with our Secretary.
---
TATA EDGE REGIONAL COORDINATOR IMPARTING TRAINING FOR SCIENCE AND MATHS TEACHERS
The Regional Coordinator Mr C.S. Ragav from Tata ClassEdge gave a one day training to the science and maths teachers in LabEdge i.e. usage of lab equipment through our own manual or computer mouse. The classes were held on 4th & 17th March 2016 for Science and Maths teachers respectively. Tata Edge being education partner with us, the training given to the teachers was of great use.
---
'INSIGHT' PROGRAMME By TATA CONSULTANCY SERVICES
On 12th Apr 2016, one of India's prestigious Multinational Organization Tata Consultancy Services (TCS) commenced their 'InSight' Program. The objective of this program is to inculcate into the students in the art of computer program coding and to recognise students who have flair for it. Commencing from the summer vacation of the academic year 2015-2016, the programme introduced the concept of "ONLINE" learning for XII Standard Computer Science students. The focus was on training the students in C/C++, thereby enabling them to acquire logical and analytical thinking. With the case study methodology, the students were able to apply the theory learnt by them to real situation. This ultimately would reinforce their understanding of C++ and enable them to face the Exams with confidence. Along with this, the students were trained in soft skills. Ms. R. C. Sharanya and Ms. K. Sri Ranjani were the Coordinators of the programme.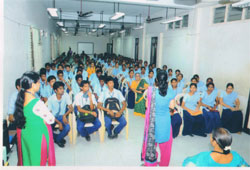 Ms. R. C. Sharanya, the coordinator of the programme is seen addressing the students
---
SUMMER CAMP BY SRI RAMAKRISHNA MATH
Swami Sutapathanandaji of Sri Ramakrishna Math, Kanchipuram conducted a Summer Camp (Personality Development) in our School for our students of classes VI to IX from 22nd April 2016 to 6th May 2016. The camp was held from 9.00 a.m. to 12.00 Noon (4 periods) during the above period. The subjects taught were Gita and Vedic Chanting, Bhajans, Drawing, Story Telling and Yoga. Students enthusiastically participated in the above camp. The students were given 'Participation Certificate' at the conclusion of the camp..
---