ANNUAL SPORTS DAY
The Annual Sports Day was held on 11 JAN 2016. Dr. P. Nagarajan, M.P.Ed., Ph.D., Superintendent Central Excise and Customs, Govt. of India, who headed the function, enlightened the students on the role of physical education in leading a healthy life.
The chief guest accorded a warm welcome by our staff
The chief guest is being honoured by our Secretary
Students demonstrating Fencing.
Dr. P. Nagarajan M. P. Ed., Ph.D., Superintendent,
Central Excise, Chief Coach, Prime Sports Academy, Chennai,
the Chief Guest at the Annual Sports Day seen with State Level medalists .
---
SCIENCE & MATHS EXPO
An Exhibition on Science and Mathematics was conducted by enthusiastic students of the school on 23rd JAN 2016. The expo was filled with impressive charts and miniature models of various scientific instruments. The tips and tricks displayed by the students were both educative and entertaining.
Boys giving a demonstration at the Expo
An ingeniously designed hearing aid instrument
by a student being tried out by a visitor.
---
ANNUAL DAY
The School's Annual Day was celebrated on 29th FEB 2016. The President of SSKV Group of Institutions and Honorary Director of The C.P. Ramaswami Aiyar Foundation Dr. Nanditha Krishna, Ph.D., was the chief guest. The President urged the students to put hard and intelligent work for their academic upliftment. This talk was followed by distribution of Prizes for the achievers. The programme presented by the students drew applause from every one.
Dr. Nanditha Krishna, President of the group of institutions
is seen arriving for the celebrations.
Students in a mime programme
Boys playing background music to the programme
---
ANNUAL DAY OF MUSIC WING
Dr. (Mrs.) Rukmani Ramani, M.A., M.Ed., Ph.D., (Daughter of the legendary composer Brahmasri Papanasam Sivan) Retd. Professor in Vocal Music of the Govt. Music College, Chennai presided over the function and distributed prizes to winners in competitions at the Annual Day of the Music Wing of the group of Schools celebrated on Friday, 11th MAR 2016. Mentioning about the glorious heritage of centuries-old Carnatic music, the chief guest in her address exhorted the students to seriously take to music besides their academic pursuit. She was also praising the management for conducting music classes for teaching mridangam, violin, vocal, veena, keyboard, dance etc. The programme presented by the students was well received and appreciated by everyone.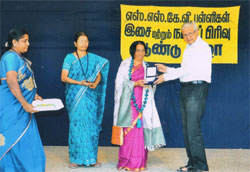 The Secretary is seen honouring the chief guest.
---