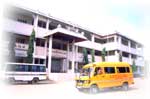 The Jayendra saraswathi Golden Jubilee Trust gave the first endowment that marked the start of the Boys school in 1987.
A separate campus was created near Kailasanathar Temple , and the Jayendra saraswathi Bhavanam was inaugurated to house the first batch of boys who grew out of the Mainstream SSKV Matriculation Higher secondary (Girls).
Discipline and molding of character;imparting of quality education are the driving motives, When our 'Old' Boys now shining in various fields like Medicine, judiciary and Industry, home in to attend our various functions voluntarily, they speak to the students on the strengthening influence of the Discipline and Social and Moral guidance gained from this school while progressing in higher careers.
The school was accorded 'Recognition' by Education department of Tamil Nadu Govt in the year 2014.